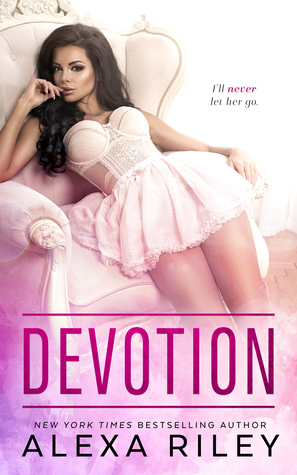 'Devotion' by Alexa Riley
is the hot and sexy novella story of
Aurora Adams and Noah Hill.
Aurora has had a rough life because of her mom. She is told what to think and feel, what to eat and drink…basically she is controlled to the point of just being a mindless drone for her mother. Aurora loves to dance and is a very good ballerina but even that her mother seems to control by starving her and making her dance way too much in her training.
Noah is being forced to attend a performance of ballerinas because of a client and his wife, all over a deal when he sees Aurora on stage. At that point, everything changes. Noah must have her
and nothing , no one will stand in his way. He gathers all the information he can about her and plots his way to get her to him, making sure her mother cannot keep her from him…
This is one HOT novella read , one that is guaranteed to make ice cold drinks needed and fans on high. I loved how Noah is so alpha and how Aurora is so innocent yet these two are destined for each other. This is one fabulous Alexa Riley romance read!!
My Rating: 4.7 stars *****
"I voluntarily reviewed an Advance Reader Copy of this book in exchange for an honest review***